One of the strongest memories of my childhood was my family visiting the eco-warriors who lived in the trees in Glen of the Downs woods beside the N11.
We had recently moved to Bray, the M50 did not exist and the N11 was a lane narrower then it is today. Whole families of people had taken up residence in the trees alongside the road to protect them from the expansion of the N11. We would sometimes collect their rubbish to take to the recycling centre.
I remember climbing along the nets they had set up among the trees with some of the kids and thinking that this was the greatest thing ever I had ever seen. Even as a kid I could understand that this level of dedication to something was special. In the end they lost. But for all the years after when I think about all the influences on my life as an activist and all my parents taught me I still sometimes pictures those people in those trees.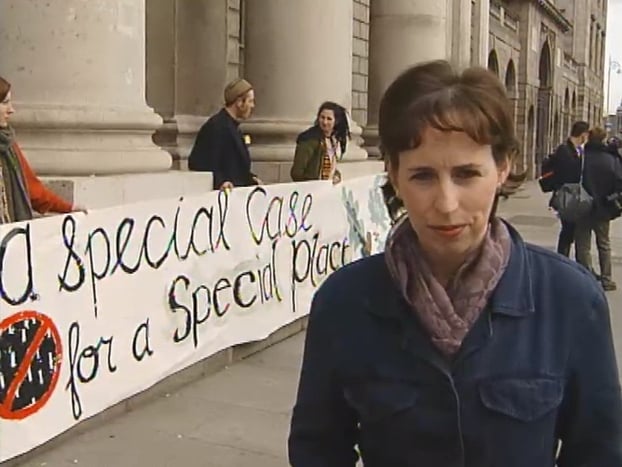 Carole Coleman outside the Four Courts, after judgement against eco-warriors (Dublin RTE Archive)
In 1970s, Ireland say widespread campaigns against the introduction of nuclear power focused on the proposed site of Carnsore Point in Co Wexford. What was called by some 'Ireland's woodstock' saw environmental issues enter the mainstream. Shell to Sea in more recent years equally saw these issues take the nationally stage. The possibility is there.
And yet despite this Ireland is failing to make any significant progress on environmental issues. They are relegated from the mainstream of the national conversation, they are not considered election issues.
In the most recent budget, in the same week as the government launched its new National Biodiversity Action Plan, the National Parks and Wildlife Service saw its funding cut again to €11 million. This small amount for a national agency would seem less galling if the state subsidy for greyhound racing had not been set at €16 million.
Yet not a single notable Irish news organisation raised this issue at all. It might not have been clear to me as despite having read the budget coverage it took another activism raising it on twitter for me to be able to locate the figures. I still cannot 100% confirm that the NPWS figure is accurate since I can't seem to find an exact number in the budget as the NPWS does not appear to be specifically mentioned. The lack to specific mention of the organisation in charge of the management of Ireland's protected state lands is a story in and of itself.
But here we are.
Which begs the question, what can be done to give momentum back to a movement that is more necessary than ever?